The spiced salted duck eggs are processed with seasoning.
Pickling method: first remove the yellow eggs, cracked eggs, etc. that are not easily processed in fresh duck eggs, and then wash and drain the fresh duck eggs. Generally 100 fresh duck eggs with cinnamon 120 grams, 70 grams of fennel, 50 grams of chili powder, 750 grams of salt, add 3,000 grams of water; cook for 1 hour, after cooling the spoil, and then 50 grams of spiced grains, made of thick and not thin Mud. When pickling, use the left hand to take 3-5 fresh duck eggs and put them into the mud. Put the eggs with the mud material into the small jars with your right hand. After filling, seal them tightly with lids to prevent leakage. Spiced and salted eggs are mature in the summer and 25-30 days in the spring and 40-50 days in the spring and 70-80 days.
Our Low Pesticide Goji Berry is produced in accordance with the EU standards 0231010 : Tomatoes(goji berry is classified to tomatoes).
For the low pesticide goji berry, we control it in the planting process. A month or so before picking, it is forbidden for farmers to spray pesticides on the goji trees. In addition, we strictly prohibit farmers to use prohibited pesticides.
Of course, the types and quantities of pesticides need to be tested to confirm. We could offer organic certificate and test report, there are more than 200 items scanned by EUROFINS, Complies with EU standard.
Usually, the low pesticide goji berry`s price lower than the price of Organic Goji Berry, and the low pesticide residues are basically no harm to the human body, so the low pesticide goji`s sales is the largest.
Detailed specification
| | | |
| --- | --- | --- |
| Category | SO2 | Pesticide |
| Low pesticide / EU standards | <15ppm | Meet EU pesticide standards |
Type:

Size:

180pcs/50g, 220pcs/50g, 250pcs/50g, 280pcs/50g, 320pcs/50g, 350pcs/50g, 380pcs/50g , 420pcs/50g, 450pcs/50g, 500pcs/50g, 550pcs/50g, 750pcs/50g

Humidity/Moisture (%):

12%-14%; We could control according to customer`s requirements

Packaging

Inner package:250g/500g/1kg/3kg/5kg aluminum plastic bags ;

Outer package: cartons with capacity of 10kg,20kg,25kg;

10KG/CTN :10MTS/20GP; 20KG/CTN:11.5MTS/20GP

Payment & Shipping Terms:

By T/T, D/p at sight ,L/C

Delivery Time:

About 15 days

Storage:

Store closed containers in a cool, dry, well-ventilated area. Avoid exposure to direct sunlight

Shelf Life:

One year

OEM

Available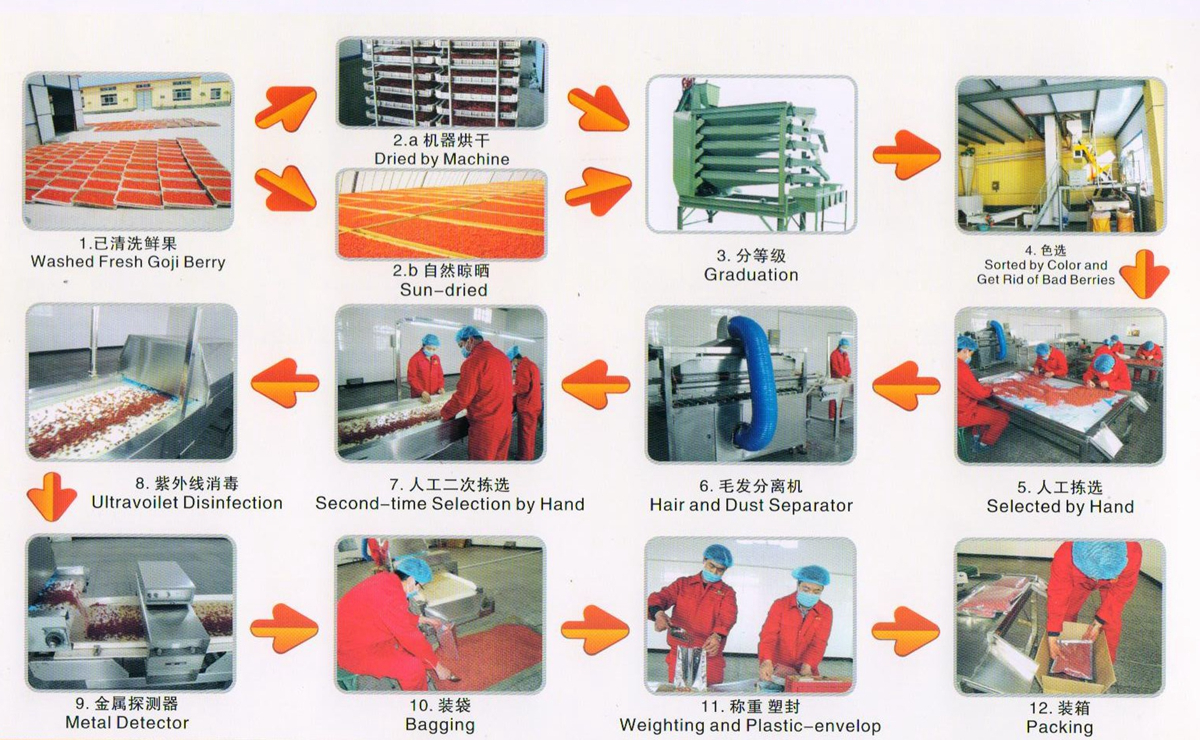 Extra service
Ø If you like, we can provide you with a wide range of promotional materials.
Ø We can also provide you with retail packaging of various materials.
Ø Of course, if you have other procurement requirements, we can also help you find suppliers in china
Low Pesticide Goji Berry
Low Pesticide Goji Berry,Dried Goji Berry,Goji Berry Plant,Dried Goji Berry Fruta
NINGXIA UNION-SURE CO., LTD. , https://www.unionsuregoji.com